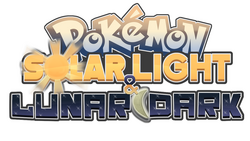 Pokémon Solar Light and Lunar Dark are a pair of fangames developed by Watertrainer and Chai-Tao using Pokémon Essentials. Though they are intended to be two separate games, the current demo does not include any version differences.
Story
The player and their friends, Rodney and Keira, will travel across the Rikoto region to fill out the Pokedex and challenge the Pokemon league.
Pokémon
Solar Light and Lunar Dark contains a whole generations worth of Fakemon.
Development
Screenshot
External Links