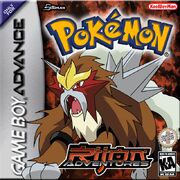 Pokemon Rijon adventures is a hack of FireRed and a sequel to Pokémon Brown.
It's part of a trilogy of games by Koolboyman including Pokémon Brown and Pokémon Prism.
Story
The game takes place 20 years after the original. You play as Brown's child as he/she travels to become a Pokemon master.
Pokemon
Pokemon Rijon Adventures consist of Pokemon from gens 1-6.
Screenshots
External Links